Version 3 Ongoing Update Schedule
Posted by , Last modified by Dwight Crews on 10 February 2016 02:25 PM
Version and Validation Rule Update Schedule
Prior to the implementation of version 3 updates to the VPHIB system were planned in batches and every attempt made to limit the frequency of change. It was still perceived that there were constant changes being made to the system. To help address this perception Figure 5 below shows the schedule that will be followed to make version updates and validation rule updates.
Version updates include, but are not limited to, additional elements, values, and technical changes to the XML structure. The VPHIB program will work in synchronization with the NEMSIS revision process. NEMSIS will release its version updates on or around March 1st each year. Once available, VPHIB staffs will evaluate the NEMSIS release and post the Virginia specific updates by June 1st annually. NEMSIS requires software vendors to implement the March 1st changes by the next January 1st. OEMS will align its implementation to also occur on January 1st.
Validation rule updates will occur on a six month basis. Updates will be posted and announced by April 15th and November 15th. Both cycles will provide a 45 day notice prior to implementing the new rules on June 1st and December 31st.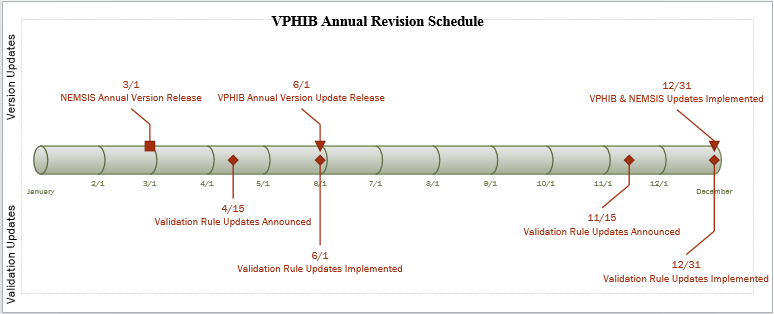 ---