Hiding HIPAA Info on Run Forms
Posted by on 18 January 2012 08:44 AM
Occassionally, we are asked if there is a way to print the run forms without the HIPAA related items showing up on the report. Most often the agency or provider wants to use the run form for teaching or performance improvement efforts while protected from disclosure of patiet information.
There is a way to "sanitize" the report that has always existed. As an agency administrator If you sign onto VPHIB do the following steps:
Click on staff
Select your own account
Click edit
Click on the "permissions tab"
Click on the "View Permissions" button
Change the radio button next to "View Patient Identifiable Information" to the setting of "No."
You may need to log off and sign back on.
Optionally you may be able to adjust other accounts by changing the radio button "View My EMS Runs Only:" to yes on the User Permissions page.
At this point when you open the run form it will not include the HIPAA related items. Do remember that if the very nature of the call is so unique, that it could make identity of the patient known, it would be a disclosure of the patient as if you had given their name.
Figure 1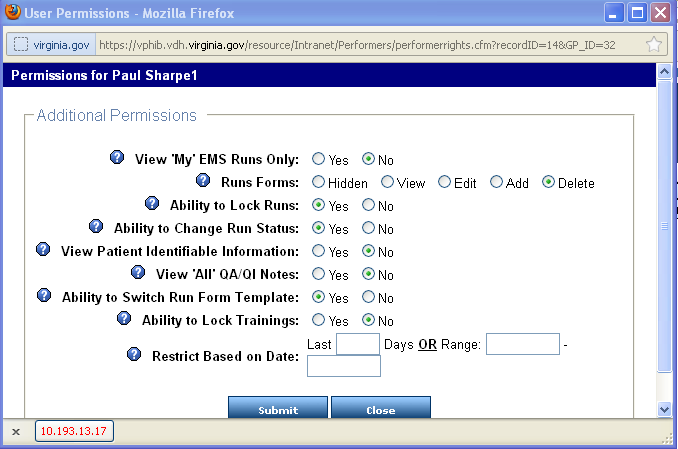 ---